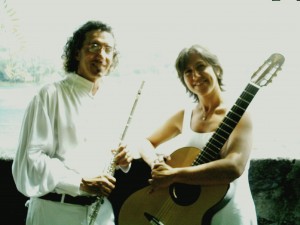 ANNA ALESSANDRI
She graduated in 1991 at the Conservatory of Rome "St. Cecilia "under the guidance of Carlo Carfagna.
He has participated in master classes in Italy and abroad with internationally renowned guitarists such as Leo Brouwer, Manuel Guitierrez and Heliot Fisk.
She has performed as a soloist and in various chamber ensembles (with harpsichord, violin, flute, vocals), and as a soloist whit string orchestras.
Winner of national competitions as a soloist and in duo in Recanati and Fiuggi, she is also well qualified in the international competition "M. Giuliani "in Bari.
At the concert career combines teaching at the middle school musical and in the St. Georges School.
In 2000 he obtained a degree in Ethnomusicology at the University "La Sapienza" of Rome.
Since 2003, with flutist Robert Aronne has studied the original repertoire of the twentieth century, performing concerts in the concert seasons of national and international importance.
ROBERTO ARONNE
Born in Rome, he graduated in flute in 1983. Later he studied with P.L Graf, C. Klemm and M. Larrieu, with whom he studied for a year in Geneva; he has also studied under the guidance of Maestro Andre Jaunet from 1985 to 1987 in Zurich.
An intense concert activity in Italy and abroad as a soloist and in chamber ensembles, has performed for Nuova Consonanza and for the Istituto della Voce, in collaboration with the Teatro dell'Opera, RAI in Rome and Regione Puglia, obtaining consents from critics and the public. He has worked as principal flute with various theater groups and orchestras, such as those of Messina, Pistoia and Teatro Petruzzelli in Bari has performed with the orchestra of AMIT soundtracks and recordings for Radio Vaticana.
He 's Artistic Director of Association-Lyric Symphony "G. Verdi".
He's teacher of flute at the State School musical and he's director of choirs and town musical bands.