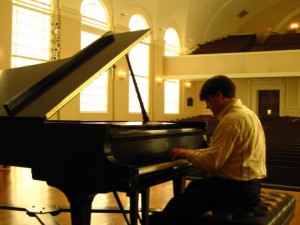 Giuseppe Lupis (USA – America)
website
GIUSEPPE LUPIS
A former pupil of renowned concert pianist Aldo Ciccolini, Giuseppe Lupis holds a Doctorate in Musical Arts in piano performance at the University of Georgia, under the tutelage of Richard Zimdars, and a piano performance degree earned with highest honors at the State Conservatory of Music in Bari, Italy, with Pierluigi Camicia.
Giuseppe Lupis is known for his explorations of unique repertoire. He is the first pianist to have performed an entire solo piano recital with music by Keith Emerson. Between concerts of the classics, a manuscript work of Italian composer Nino Rota, and his own compositions, he is also one of the few pianists in the world to have mastered and frequently performed entire George Gershwin solo piano programs. His George Gershwin CD recording (Phoenix label, 2000) was reviewed as "exceptional" by Alberto Cantù (Il Giornale, Milan, Italy).
Giuseppe Lupis is an active piano composer and arranger. His works are a regular presence in concert seasons around the globe. In the past season his works have been presented in Italy, United States; United; Poland; Canada; South Korea and in a broadcast recording for TV2000. Performers include pianists Roberto Prosseda, Rachel Hyunjung Chung, Denis Plutalov, and Mikolaj Warszynski.
Giuseppe Lupis teaches piano at Grand Valley State University and give masterclasses in South Korea, Brazil, Italy, Ukraine, and the USA.